Judge: S Cudbill All
GENERAL COMMENTS
Thanks to Kelly for the invite, stewards Mark and Simon, Drew for treating me royally, and Luke and Nichola for running an excellent kitchen. Thanks also to all exhibitors.
Standards were high and some very good mice didn't place. Congratulations to all winners. It was hard to compare the winning line-up, all 5 were top notch. In the end I pondered which mouse was the closest to achieving being the best it possibly could be for that variety. The Broken was that mouse, such a good animal. Well done to Stephen Maynard for winning not only a very strong Marked section, but Best in Show.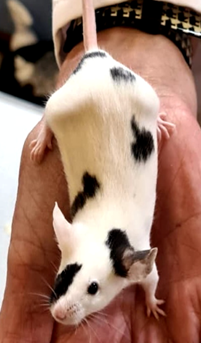 PE WHITE Ad – 2
1st S Goss D Good eye and ear, good type, whitest
2nd S Goss D Similar to 1st but thinner under with a line
First place is a superior colour
PE WHITE u/8 – 3
1st S Goss D Good head, good eyes and type, better under than 2nd
2nd K Holdgate B Similar for head, eye and type, better top but thinner under and line
3rd Disq
CREAM Ad – 1
1st S Goss B Good mouse for size and type, bit of moult today
CREAM u/8 –4
1st L McGrath D Good head, eye and colour, best under
2nd L McGrath B Similar to 1st place but patchy under which cost him
3rd L McGrath D Good colour, ear and eye, lacks substance and thin tail
BLACK Ad – 3
1st S Goss B Little to choose between, all good, belly decides placings
2nd M Davis D Good type, moulty belly and slight tan vent
3rd S Goss B More moult than 2nd
BLACK u/8 –5
1st L Birchall D Nice type and colour, under to come
2nd L Birchall D Little to choose, depth of colour decides placement
3rd L Birchall D Similar, slightly behind on colour
FAWN Ad – 2
1st J Mullan B Good size, type and colour, slight line under
2nd J Mullan B Good head, ear and eye, choppy under, not in show condition
FAWN u/8 – 2
1st J Mullan D Good size and type, nice mouse
2nd J Mullan D As above, but a bit fat and chopped under
BLUE Ad – 3
1st K Holdgate D Closest to standard of medium slate blue, best ears
2nd C Booker B Good colour, small ears, tan vent
3rd C Booker D thin type and lacking substance, good try though<span class="Apple-converted-space"></span>
BLUE u/8 – 1
1st S Grimwood B Good level colour, good vent, a bit snipey
AOC SELF Ad – 5
1st S Goss Ch B Good mouse all round
2nd W Rutter Red B Good ear and eye, good top colour, pale under
3rd M Lee Ch B Good mouse, behind on under. Good class, hard to choose
AOC SELF u/8 – 6
1stM Davis Choc D Good eye and ear. Good colour
2nd L Russell Ch D Excellent condition, good colour
3rd L Russell Dove D Slight tan vent, otherwise good. Another good class
SELF CHALLENGE Ad – 16
1st S GossChampagne
2nd S GossPEW
3rd S GossCream
SELF CHALLENGE u/8 – 21
1st L BirchallBlack
2nd M DavisChoc
3rd S GossPEW
BLACK TAN Ad – 5
1st S Grimwood B Super tan, no hint of throat spot, decent feet
2nd S Grimwood B Another good one, not quite the substance of 1st
3rd S Grimwood B Better actual mouse than 2bd but behind on tan. Good class
BLACK TAN u/8 – 7
1st S Grimwood B Good youngster all round
2nd S Grimwood B Little to choose, minor flaws decide placement
3rd S Grimwood B Another god one in a good class. Most level top and tan decides
CHOC TAN Ad – 4
1st P Hall B Excellent top and tan
2nd S Grimwood D A really good mouse for a tan doe
3rd P Hall D Slightly lighter tan. A really good class
CHOC TAN u/8 – 4
1st S Grimwood B Good level top and tan
2nd S Grimwood B Depth of colour decides placements
3rd P Hall B Lighter top and tan. Such good mice. The competition is on
CHAM/SILVER TAN Ad – 3
1st Chew Valley Ch B Good condition, strongest tan
2nd Chew Valley Ch B Perfect top colour, tan could be a little deeper
3rd Chew Valley B Better tan but all round I preferred 2nd. I like these
CHAM/SILVER TAN u/8 – 2
1st Chew Valley Ch D Good top and decent tan for variety
2nd Chew Valley Ch D Similar, little to choose
AOC TAN Ad – 0
AOC TAN u/8 – 0
TAN CHALLENGE Ad – 12
1st S Grimwood Black Tan
2nd P Hall Choc Tan
3rd Chew Valley Cham Tan
TAN CHALLENGE u/8 – 13
1st S Grimwood Choc Tan
2nd S Grimwood Black Tan
3rd S Grimwood Black Tan
Judge: K Holdgate Marked, Satins & AOVs
GENERAL COMMENTS
Thank you Jo for putting on a great show. A good entry for a first show, so the day was saved by Bob who kindly stepped in to share the judging. Best in Show went to Andrew with his lovely Ivory. Congratulations! and thank you for stewarding for me, you did a grand job! I look forward to seeing you all again soon.
DUTCH Ad – 7
1st S Maynard Choc B Good mouse, excellent saddle
2nd S Maynard Choc B As above
3rd Chew Valley Choc B another good one in a good class, minor faults decided placement
DUTCH u/8 – 10
1st S Maynard Ag D One cheek under but otherwise very good
2nd S Maynard Ag D Good saddle, good pigment on ears
3rd Chew Valley Choc B Good mouse, behind on saddle to 1st and 2nd
BROKEN Ad – 2
1st S Maynard B Good condition, more even than broken
2nd M Davis B 5 good pea spots, same ear and nose detracts
BROKEN u/8 – 2
1st S Maynard D 6 well placed top spots and one under, very pleasing to my eyes
2nd M Davis D 7 spots mostly even, excellent condition
AOV MARKED Ad – 2
1st K Holdgate Sil Ag Hfrd B On another day, a section winner
2nd M Davis Sil Ag Hfrd B Not quite the head of 1st but still good
AOV MARKED u/8 – 1
1st K Holdgate Blk Hfrd B Excellent markings all round
MARKED CHALLENGE Ad –
1st S Maynard Dutch
2nd K Holdgate Hereford
3rd M Davis Hereford
MARKED CHALLENGE u/8 –
1st S Maynard Broken
2nd K Holdgate Hereford
3rd S Maynard Dutch
IVORY SATIN Ad – 4
1st S Goss D Excellent all round, best show condition
2nd S Goss D Good, only slightly behind 1st
3rd S Goss D Slightly behind on colour and small for an adult
IVORY SATIN u/8 – 4
1st S Goss D Slight belly flaw but otherwise excellent
2nd S Goss D Another excellent exhibit, purity of white decides
3rd S Goss D Another good mouse, moulty belly. Good class
AOC PE SELF SATIN Ad – 3
1st S Goss Sil D A very good mouse all round
2nd S Goss Ch D Also excellent, hard to choose, but thought the Silver was slightly more level
3rd S Goss Ch B Good but moulty
AOC PE SELF SATIN u/8 – 4
1st L Russell Ch D True shot silk colour, good mouse
2nd L Russell Dove D Flawless coat, good mouse, not quite the sparkle of 1st
3rd L Russell Ch B Excellent all round, darker colour
BE SELF SATIN Ad – 3
1st W Rutter Red B Good colour and condition
2nd W Rutter Red B Good colour, not the condition of 1st
3rd Disq
BE SELF SATIN u/8 – 2
1st K Holdgate Cr D Good size, type, ear and eye
2nd K Holdgate Choc B Good size and type, pale colour, light feet
AOV SATIN Ad – 2
1st K Holdgate Spl D Few clumped markings, slightly pointed, overall good
2nd Chew Valley Sia D Fair mouse, flawed under
AOV SATIN u/8 – 1
1st J Mullan Sia B Bit moulty but good colour
SATIN CHALLENGE Ad – 12
1st S Goss Silver Satin
2ndS Goss Ivory Satin
3rd S Goss Cham Satin
SATIN CHALLENGE u/8 – 11
1st S Goss Ivory Satin
2nd L Russell Cham Satin
3rd L Russell Dove Satin
GOLD AG/CINN Ad – 3
1st J Mullan Ag D Bright colour, well ticked, good undercoat
2nd W Rutter Cinn D Good colour, small for an adult
3rd J Mullan Ag B Dull colour, less defined ticking
GOLD AG/CINN u/8 – 2
1st J Mullan Ag D Nice bay for colour, type and condition
2nd J Mullan Cinn B Decent all round, good colour
CHIN/FOX Ad – 0
CHIN/FOX u/8 – 0
SP SIAMESE Ad – 5
1st J Bennett B Decent all round, just a little dark
2nd J Mullan B Nick in ear, pale feet
3rd Disq all others
SP SIAMESE u/8 – 3
1st J Bennett D Good little mouse
2nd J Mullan B Needs some work on colour
3rd Disq
BP SIAMESE Ad – 1
1st J Bennett B Still some work to do on colour but coming on
BP SIAMESE u/8 – 1
1st J Bennett D Very young but a decent mouse all round
AOV Ad –
1st K Holdgate Spl B Well distributed splash, excellent condition
2nd Chew Valley Him B Some work needed but a good start
3rd M Davis Spl B Splashing not as distinct as 1st
AOV u/8 –
1st Chew Valley Him D Good condition and body colour, pale points
2nd L McGrath Blk LH B Good size for variety, good fur length, colour needs work
3rd Chew Valley Him D Very young, good attempt
AOV CHALLENGE Ad –
1st K Holdgate Splashed
2nd J Mullan Agouti
3rd J Bennett Siamese
AOV CHALLENGE u/8 –
1st J Mullan Agouti
2nd Chew Valley Himalayan
3rd J Bennett Siamese