Judge: A Leach Selfs & Satins
GENERAL COMMENTS
Thank you Stephan for giving me my debut appearance as judge at your Sheffield Mouse Club show. I now appreciate the hard work that goes into the role! To be blessed with Ruth as my fellow judge was reassuring and an honour, thank you Ruth.
Thank you especially to my steward for the day Jenny Kew who did a smashing job and kept things running smoothly.
I saw some super mice in my sections, and at times I was spoilt for choice with quality entries. In the end the mouse that stuck in my mind was the lovely Cream buck that went on to make BIS. Congratulations Jenny on your well deserved win. Congratulations also to Simon on your BOA win with your Black Tan.
A lovely show, thank you all for making it a day to remember.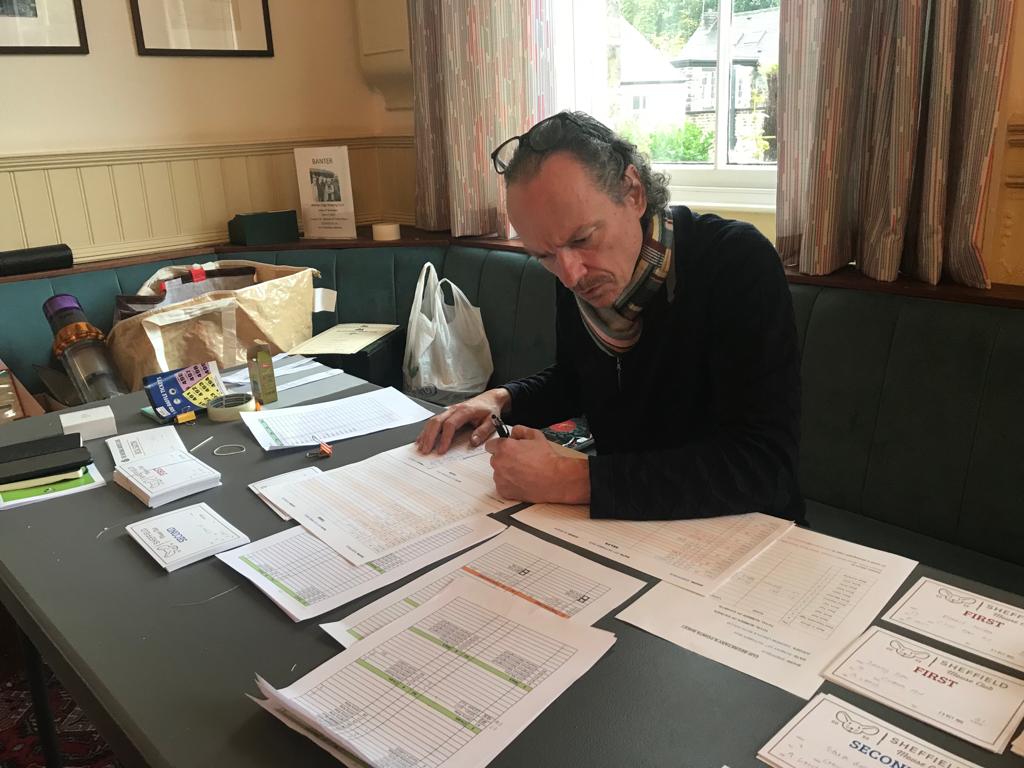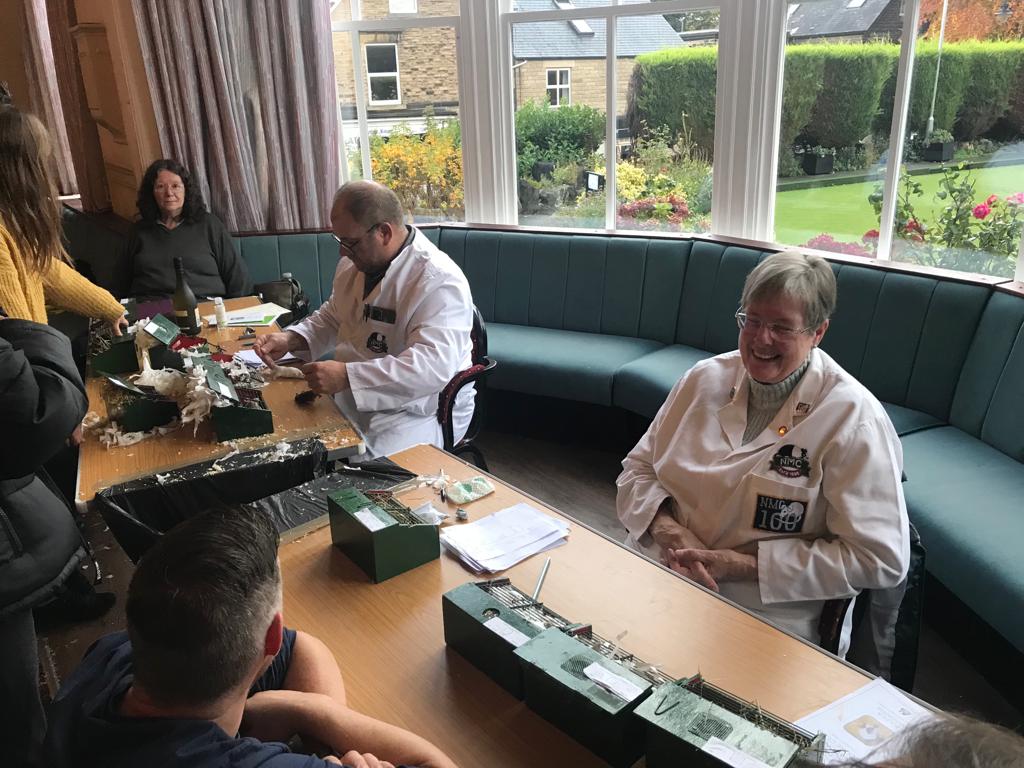 PE WHITE Ad – 6
1st S Cudbill B Lovely condition, good type and under
2nd S Cudbill B Nice buck but behind on type
3rd S Goss B Behind on type on first two
PE WHITE u/8 –
1st J Kew D Best overall type, lovely ear set, faint line under spoils
2nd J Kew B Behind winner on ears, line under
3rd J Kew D Lacking type to first two, again line under!
CREAM Ad – 3
1st J Kew B Lovely typy mouse, good even colour, very pleasing on the eye
2nd S Goss D Behind on type to winner, although still very nice mouse
3rd S Goss D Lacking condition, slight line under
CREAM u/8 – 4
1st L Russell D Nice mouse with good even colour, slight line under spoils
2nd L Russell B Not type of winner, thin under
3rd L Russell D Lacking the condition of the first two mice
BLACK Ad – 5
1st S Mӧnninghoff B Best all round even coloured in a nice class
2nd S Mӧnninghoff D Lovely mouse, slightly grey under to winner
3rd S Mӧnninghoff B Not the type of winners
BLACK u/8 – 5
1st S Mӧnninghoff D Lovely deep black and lustrous, nice to see, good overall type
2nd S Mӧnninghoff D Lacking depth of colour to winner
3rd S Mӧnninghoff B Behind on colour and condition of 2nd
RED/FAWN Ad – 6
1st S Mӧnninghoff Red D Nice doe, rich red, bold eye, in good condition
2nd J Mullan Fawn D Close to 1st, behind with type
3rd L Walker Fawn D Nice colour, narrow head
RED/FAWN u/8 – 6
1st J Mullan Red D Even colour, best type in class
2nd J Roberts Red B Behind on colour to 1st, lovely type
3rd J Roberts Red D Colour as 2nd, less typy
BLUE Ad – 0
BLUE u/8 –
1st S Grimwood D Best even colour, good under and type
2nd S Grimwood D Close to 1st, loses on type
3rd J Roberts B Lovely young buck, too light in colour
AOC SELF Ad – 4
1st S Mӧnninghoff Choc D Best even colour chocolate, lovely tail set
2nd S Mӧnninghoff Choc D Lighter under colour, good tail and bold eye
3rd S Mӧnninghoff Choc D Good colour, behind winners with type
AOC SELF u/8 – 2
1st S Goss Ch D Lovely even colour, good bold type
2nd S Goss Ch D Lighter under colour, chipped ear
SELF CHALLENGE Ad – 24
1st J Kew Cream
2nd S Mӧnninghoff Red
3rd S Goss Cream
SELF CHALLENGE u/8 – 25
1st J Kew PEW
2nd J Kew PEW
3rd S Goss Cham
IVORY SATIN Ad – 3
1st S Cudbill B Bold well defined, good colour and satinisation
2nd S Cudbill D Nice type, not colour of
1st
3rd S Goss D Line under spoils
IVORY SATIN u/8 – 3
1st J Kew B Nice satinisation, good under, wins on type
2nd S Cudbill D Close to
1st although ear set too high
3rd R Walker B Line under, ear set high
AOC PE SELF SATIN Ad – 2
1st L Russell Ch D Lovely condition, even colour, nice head
2nd J Mullan D Lacking show condition
AOC PE SELF SATIN u/8 – 0
BE SELF SATIN Ad – 1
1st J Mullan Poor condition, not show material
BE SELF SATIN u/8 – 5
1st L Russell Cr B Very nice mouse, good head, satinisation and even colour
2nd L Russell Cr D Excellent condition and satinisation, light under
3rd L Walker Choc D Good colour. Behind on satinisation, high ear set
AOV SATIN Ad – 3
1st J Webster Ag D Rich even colour, good ticking, nice dark toes/nails
2nd J Webster Cinn D God colour, less type to winner
3rd L Booth L Booth Him B Nice mouse although too light in colour
AOV SATIN u/8 – 4
1st L Russell Spl B Lovely type, nice marking and satinisation
2nd L Russell Spl D Behind winner on colour and light feet
3rd L Walker Ag D Behind winners with type, light toes
SATIN CHALLENGE Ad – 11
1st L Russell Cream
2nd L Russell Splashed
3rd L Russell Splashed
SATIN CHALLENGE u/8 – 16
1st L Russell Cham
2nd J Webster Agouti
3rd S Cudbill Ivory
Judge: A Storey Selfs & Satins
GENERAL COMMENTS
I had a thoroughly good day at the first Sheffield show, lovely atmosphere, plenty mice, hardly any daylight at all till after lunch. It was good to judge alongside Andy Leach on his first engagement, though you wouldn't have known that, he judged like a professional. Thanks also to my excellent steward Simon—a good steward makes all the difference!
The mice were a mixed bunch, from the very best to the very worst, with most of them somewhere in between. Well done to Jenny Kew with a beautiful Cream, everything about the mouse was good. In my sections, some really good tans, Phil Hall Best and Simon Grimwood BOA with two top quality exhibits; a top notch Black Dutch from Sarah Cudbill for Best Marked; and a really good Black Fox from Jenny Kew as Best AOV; alsoof note a young Roan, very crisp and attractive.
At the other end were quite a few unfit mice. There really isn't any excuse for this, and even the best specimen will never win if it is out of condition.
A note on the Maxeys: we show uniformly in Maxey cages so the mice all start from a level point. Some of the Maxeys in my classes had a large white label on the back with a number in it, and one had an unpainted side. I sent that last one off. Please take more care with your hardware.
This section was full of good mice, feet variable.
BLACK TAN Ad – 6
1st P Hall B Very good top, tan & under generally excellent, condition
2nd S Grimwood B Good top and tan again, slightly less substance than 1st
3rd S Grimwood B Another good mouse top and tan
BLACK TAN u/8 – 4
1st S Grimwood B Excellent top and tan, lovely coat
2nd S Grimwood B Very close to winner
3rd P Hall D Very good colour for a doe, teats showing spoil smooth under
CHOC TAN Ad – 5
1st R Walker B Best all round top and tan
2nd P Hall B Good top and tan, tan feet
3rd S Grimwood B Again good colour, a bit smaller
CHOC TAN u/8 – 4
1st P Hall B Good top and tan, better feet
S Grimwood 2nd B Good top, not depth of tan
3rd S Grimwood B Very fit, good colour, UTA
CHAM/SILVER TAN Ad – 0
CHAM/SILVER TAN u/8 – 0
AOC TAN Ad – 0
AOC TAN u/8 – 0
TAN CHALLENGE Ad – 11
1st P Hall Black Tan
2nd R Walker Choc Tan
3rd P Hall Choc Tan
TAN CHALLENGE u/8 – 8
1st S Grimwood Black Tan
2nd S Grimwood Black Tan
3rd P Hall Choc Tan
DUTCH Ad – 4
1st M Shutt Choc D Nice cheeks, slight drag in neck one side, fair saddle and undercut
2nd M Shutt Choc B Crooked blaze, left cheek runs under, fair hind markings
3rd M Shutt Choc B Full cheeks, dip in saddle
DUTCH u/8 – 2
1st S Cudbill Blk B Well marked all round and very good colour
2nd M Shutt Choc D One full cheek, ragged under
BROKEN Ad – 5
1st S Mӧnninghoff Fawn B 6sp Very nice clean spots, even rump
2nd S Mӧnninghoff Red D 7sp Again good spots but two nose spots
3rd S Mӧnninghoff Choc B 8sp 2 nose spots again, very lively
BROKEN u/8 – 3
1st S Cudbill Choc D 5sp Quite sparse spots but well placed
2nd L Russell Blk D 7sp Spots ragged, very young
3rd L Russell Blk B More streaks than spots
AOV MARKED Ad – 5
1st S Cudbill Var B Fairly light but level splashes covering the mouse well
2nd S Cudbill Var B Crisper splashes but uneven distribution
3rd J Webster Tri D Very brindled, not much solid colour
AOV MARKED u/8 – 4
1st S Cudbill Var B Splashes not very level, fat and circular mouse
2nd J Davis Tri B More solid patches, bite mark on shoulder
3rd J Davis Tri D Too much brindling and too much white, good condition
MARKED CHALLENGE Ad – 14
1st M Shutt Dutch
2nd S Cudbill Variegated
3rd S Cudbill Broken
MARKED CHALLENGE u/8 – 9
1st S Cudbill Dutch
2nd S Cudbill Broken
3rd M Shutt Dutch
AGOUTI/CINN Ad – 5
1st J Webster Cinn D Level coat top and under, rather light in colour
2nd J Webster Ag D Level ticking and fit, flanky type
3rd L Walker Ag D Fair colour, narrow head
AGOUTI/CINN u/8 – 3
1st J Mullan Ag B
2nd L Walker Ag D
3rd J Mullan Cinn B
All three very similar, need more red and better ticking
CHIN/FOX Ad – 3
1st J Kew Blk Fox B Good top, under and ticking, very nice mouse
2nd J Kew Choc Fox B Again good top and under, sturdy mouse, less ticking than
1st
3rd N/A (wrong colour)
CHIN/FOX u/8 – 3
1st J Kew Blk Fox B Nice colour, strong line under
2nd J Kew Chin B Brown cast to top, lacks depth under
3rd J Kew Blk Fox D Young, best colour in class but hard to handle
SIAMESE Ad – 3
1st S Mӧnninghoff BP D Good points, no shading, mark between eyes spoils
2nd J Mullan SP B Pale points, biscuit body without shading
3rd J Mullan SP B Even lighter than 2nd
SIAMESE u/8 – 3
1st S Cudbill SP B good points, shading good but uneven
2nd J Mullan BP D Nice points, patchy under
3rd J Mullan BP D Pale points, muddy body
ARGENTE Ad – 5
1st L Russell B Best colour, lovely condition, short on silvering
2nd R Walker B Dark spine
3rd J Mullan B Potentially a nice mouse but not fit, bitty coat
ARGENTE u/8 – 12
1st S Cudbill D Nice colour top and undercolour, fit
2nd L Russell D Uneven and too dark undercolour
3rd L Russell D Similar to 2nd
Nearly all the Argentes had an undercolour which is too dark and consequently shows a dorsal stripe, and lack silvering
AOV Ad – 1
1st L Russell Spl B Huge mouse, very good type, very good splashing apart from a blank patch under
AOV u/8 – 6
1st S Cudbill Roan D Very level roaning, bright and crisp, particularly good eye
2nd L Russell Spl D Again good crisp splashing
3rd S Grimwood Roan D Nice enough, but less sharp definition than1st
AOV CHALLENGE Ad – 18
1st J Kew Black Fox
2nd J Webster Cinnamon
3rd J Kew Choc Fox
AOV CHALLENGE u/8 – 30
1st S Cudbill Roan
2nd S Cudbill Argente
3rd L Russell Splashed